<![if !supportEmptyParas]> <![endif]>
<![if !supportEmptyParas]> AGI is intent on adhering to its purpose of promoting the performing arts, by providing
<![if !supportLists]>q <![endif]>Quality musical events,
<![if !supportLists]>q <![endif]>Opportunities for young talented performers and
<![if !supportLists]>q <![endif]>Financial assistance to music students.
The Artists Guild International is an organisation dedicated to the enhancement and promotion of performing arts.
AGI, formerly "The Friends of the College of the Bahamas" was formed in the fall of 1998 when Kendrick F. Coleby, motivated by the scarcity of classical music concerts and the under utilized talents of many Bahamian musicians decided, to approach a select number of friends to join him in recital. Fully cognizant of the plight of tremendously talented students who exhibit superior discipline and presently are, or intend to be music majors at the College of the Bahamas, but suffer setbacks due to financial difficulties, decided to donate proceeds from the concert to the COB Music Scholarship Fund.
In the first 3 years alone, AGI has produced three concerts and has donated in excess of two thousand dollars to the College of the Bahamas.


AGI Board Members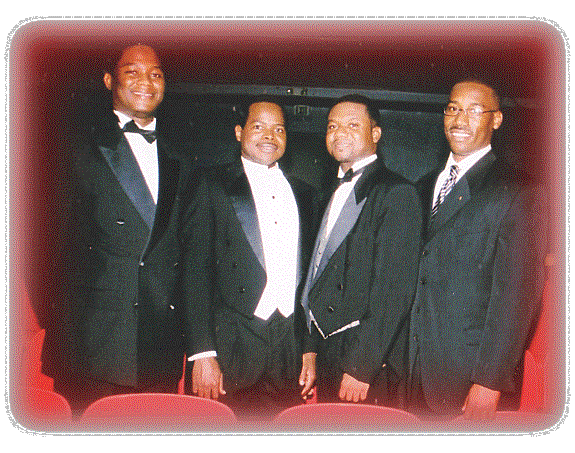 AGI Board members (from left to right)
Kendrick F. Coleby, President; Eldridge McPhee, Secretary; Antoine Wallace, Vice-President; Afton Moxey, Treasurer


AGI Vision
AGI is fully aware and is adamant regarding providing financial assistance to students. Eventually AGI desires to broaden its assistance program and provide financial contributions to music groups such as community bands, choirs and music programs in primary and secondary schools, particularly in the family islands.
However, it is considered equally important for students to perform as often as possible and in this regard AGI endeavors to implement a complete repertory season, which would commence in September and conclude in June. Concerts would not be solely limited to classical music but will encompass Jazz performances, Musicals, Opera, and Folk Music. Considerable energy and emphasis will be placed on contacting Bahamian composers and performance of their works.
Acutely aware of the necessity for training and exposure it is the explicit desire of AGI to eventually encourage and sponsor student's participation in international workshops, music festivals and competitions.
At some time in the future the idea of a national classical music competition (instrumental and vocal) and a music festival would be vigorously pursued.


Interested in supporting our Organisation?
Please E-mail us and we will be more than happy to provide you with additional information.

Visit our Productions Gallery and discover the many talents of our Music Society.
Be sure to bookmark the Calendar of Events page so you don't miss our next performance!